Real Estate Litigation
Real Estate Litigation Attorney
The attorneys at Melvin & Melvin handle all types of real property litigation. Our lawyers regularly represent clients in a wide range of real property disputes in both state and federal courts through New York State and beyond. Melvin & Melvin handles a variety of real property disputes including:
Adverse Possession Claims
Boundary Line Disputes
Partition Actions
Quiet Title Actions
Easement/Right of Way Disputes
Eminent Domain Proceedings
Enforcement of Restrictive Covenants
Mineral Rights
Riparian Rights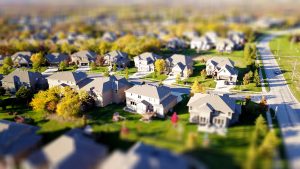 Our clients include developers, owners, lenders, landlords, tenants, and title insurance companies. Our significant experience includes representing clients in disputes regarding purchase and sale agreements, development agreements, as well as leasing transactions.
Adverse Possession:
Adverse possession is a doctrine in which a person can acquire title to land that is owned by someone else if certain legal requirements are met. The laws of adverse possession exist to account for situations in which people use otherwise idle or neglected real property. However, restrictions prevent unjustifiable outright land grabs. The requirements to establish a claim for adverse possession include the following: the occupier has acted as the possessor of the land for at least 10 years and the possession and use of such land has been actual, hostile under claim of right, open, notorious, continuous and exclusive.
Regardless of which side of an adverse possession dispute you are on, you need legal counsel to protect your rights.
Boundary Line Disputes:
Boundary disputes occur when adjoining landowners do not agree as to the location of the property line between their respective pieces of real property. Such a dispute typically arises when one neighbor wants to make a change to their property such as putting up a fence, widen their driveway or add some other additional to the real property. These disputes are quite common because most real property owners are unaware of the exact location of their property line.
Boundary disputes between adjoining landowners often require the assistance of an attorney, particularly if the dispute is over a substantial portion of real property. There are many ways to resolve boundary disputes including entering into a boundary line agreement, an easement agreement, or granting your neighbor a license to use your property, all of which can be accomplished through negotiations or mediation. If these options are not available or are unsuccessful, the attorneys at Melvin & Melvin are experienced in litigating these claims in either an ejectment action or an action for a declaratory judgment. Additionally, if it is proven that the value of your real property has been diminished as a result of a neighboring owner's actions, you may be entitled to money damages.
Partition Actions:
Real estate can held by more than one owner when it is held as a joint tenancy, tenancy in common, or by tenancy in the entirety. In each of these types of property ownership, each individual owner has rights to the whole piece of real property. Meaning, one owner cannot inhibit or infringe upon the other owners rights to the land.  In all types of property ownership, each owner has a right to the whole piece of land and all of the owners have a right to determine what to do with the entire piece of property.
A partition action is a lawsuit that can be brought when one property owner wishes to split from the co-owner(s) of the real estate. A partition action is most commonly pursued when co-owners of a piece of real property cannot agree on hot to use, improve, sell or otherwise dispose of the land. The action for a partition seeks an Order from the Court dividing the property into individual shares for each property owner, severing the joint tenancy, tenancy in common or tenancy by the entirety. There are two remedies which may result from a partition action. The first remedy is an actual division of the property such that the former co-owners are given one piece of the real property as theirs alone. The second remedy is a forced sale of the entire piece of real property and then a distribution of the proceeds based upon the type of ownership of the property.
Partition actions can be complex and the attorneys of Melvin & Melvin are here to guide you through the process in a manner that will best protect your property rights and interests.
Quite Title Actions:
A Quiet Title action is a legal proceeding which will clear title to real property, particularly if there are multiple claims, disputed interests or title defects. Such an action will "quiet" claims to the property and clarify ownership while clearing up any discrepancies to the title. If a person is buying or selling real property that doesn't have clear title, filing a quiet title action may be a beneficial way to clean up the property title. Quiet title suits can be brought to correct errors in a chain of title to real property or in matters of a boundary dispute.
Quiet title actions are not reserved only where there is an active dispute or transfer in progress. Certain circumstances may warrant bringing a quiet title action to correct technical defects in a title which are discovered during a title search or as a preventative step in establishing clear title and ownership to avoid a claim for adverse possession. Some examples of situations in which an owner may want to consider a quiet title action include:
Property purchased at a tax or lien sale
Lienholder or encumbrance claims
Property transferred by quitclaim deed
Purchase upon the death of the former homeowner in which the homeowners' heirs claim an interest in the property
To correct clerical errors on a deed or other recording mistakes
To correct or clarify boundary or survey mistakes (particularly in a boundary dispute with an adjoining landowner)
To clarify or resolve easements which cloud the title
If there is continuous encroachment by an adjoining property owner onto your property
An adverse possession claim of a person trespassing or encroaching on land claiming an ownership interest
Fraudulent conveyance of real property
Sometimes quiet title issues can be straightforward, however, most often, quiet title involves complex legal questions which should be resolved with the assistance of an attorney. Melvin & Melvin's real estate litigation attorneys are well equipped to handle all issues concerning title disputes and can provide counsel on how best to protect your rights to your real property.
Easement/Right of Way Disputes:
Because easements and rights-of-ways grant access to land, disputes between the parties as to the type of access and the scope of use of the land often arise. Melvin & Melvin Real Property lawyers handle a variety of right-of-way and easement disputes including:
Disagreements over whether the easement or right-of-way exists or is legal;
If a property owner is restricting access to a valid easement or right-of-way;
Overuse an easement or right-of-way;
Use of an right-of-way or easement outside the scope of the grant;
Issues related to transferring the right-of-way or easement;
Disputes over the location or size of the easement or right-of-way;
Using the right-of-way or easement for another purpose; and,
When disputes arise over access to land, the parties may be able to resolve the dispute with the help of Melvin &Melvin real property attorneys.
In some cases, mediation can resolve the issue without the necessity of a court action. However, when a dispute cannot be settled through mediation and negotiation, a legal action may be required to settle the dispute.
Our attorneys attempt to resolve access disputes in the most effective and efficient manner possible; however, we are also prepared to file a lawsuit and argue the matter in court if that is in the best interest of the client.
Mineral Rights:
In general, mineral rights are a type of estate ownership that allows an owner to exploit an area for the minerals it contains.  An individual who owns mineral rights has the ability to mine and/or produce any or all of the minerals lying below the surface. The mineral can include oil, natural gas, bluestone, gravel among others. Mineral rights may include hydrocarbon resources such as oil and natural gas, bluestone, gravel and many others.
At Melvin & Melvin, we represent individual landowners, as well as a wide variety of corporate interests in the ownership, development of mineral rights as well as the various types of legal disputes that accompany their ownership. We understand the value of mineral rights and work with our clients to accomplish their goals surrounding mineral rights.
Riparian Rights and Littoral Right:
If you own land that touches or is bounded by a natural body of water, you are entitled to riparian rights. This unique area of real estate law presents a variety of challenges. Our attorneys have experience with:
Dock disputes
Rights of Access
Recreation Area Easements
Road-end disputes
Boundary disputes, involving both uplands and riparian bottomlands
Issues involving public access to waterways
Hunting and fishing rights