Roger W. Bradley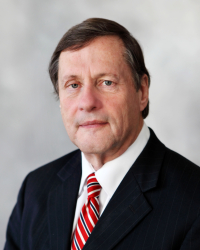 ---


Read Roger's testimonials on Five Star Reviews »
CONSTRUCTION
Mr. Bradley represents owners, lenders, sureties, contractors and subcontractors and suppliers in virtually every aspect of construction litigation including contract drafting, mechanic's liens, bond claims, trust fund issues, as well as defending and prosecuting claims for extra work, delay and disruption, and subsurface conditions. He represents and counsels clients on all aspects of dispute resolution. Mr.Bradley was lead attorney in a 2019 federal court settled in behalf of his client in the amount of 4 million dollars.
He has represented clients and litigated numerous surety and construction cases involving both public and private projects including:
defense of out-of-state underground pipeline damage claims;
defense of multi-million-dollar construction claims;
defense of a multi-million dollar surety indemnity claim involving a series of large construction projects in the Southwest United States;
representation of a general contractor and surety on an $80 million co-generation project involving in excess of 50 claims totaling millions of dollars in payment bond claims, including prosecution of claims against a co-surety;
defense of a million dollar construction claim against the owner of a nuclear power plant;
prosecution of bond claim after collapse of out-of-state grain storage facility;
representation of the County of Onondaga in connection with construction defects in a fourteen-story Civic Center building and as consultant in connection with several million dollars in claims relating to the Justice Center building;
representation of municipal owners in other construction matters including defense of a large sewer line construction claims, and prior representation on behalf of the Onondaga County Water Authority.
He has served as a consultant on a $400 million lake cleanup project, as well as on other multi-million dollar projects.
COMMERCIAL AND BUSINESS
Mr. Bradley has counseled banks, other lenders, factors, and businesses in preparation of transactional documents including notes, guarantees, negotiable instruments, security instruments, warranties and contracts. Corporate litigation has included shareholder rights, officer/director liability, alter ego claims, unfair competition and intellectual property including trade secret and copyright claims conducted under commission from the US District Court to the High Court of New Zealand.  Mr. Bradley also has experience litigating complex asbestos matters.
MEDIATION AND ARBITRATION
Mr. Bradley has extensive experience as a mediator and arbitrator.  As a panel member of the American Arbitration Association Mr. Bradley regularly serves as a mediator or arbitrator in complex construction and commercial matters. He has served as chairman of several large claim arbitration panels.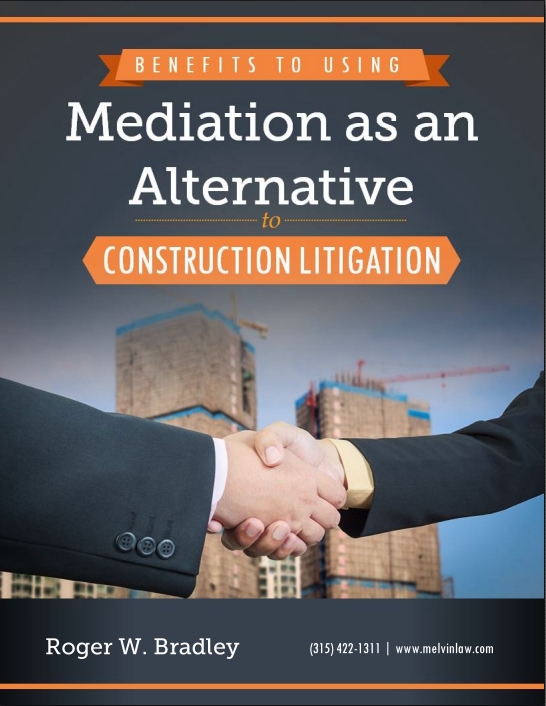 Education
Syracuse University (J.D. magna cum laude)
Colgate University (A.B.)
Admitted
New York State Bar
United States District Court: Northern, Southern and Western Districts of New York
Second Circuit Court of Appeals
Dispute Resolution
Panel of Arbitrators of American Arbitration Association: Construction and Commercial Panels
Panel of Mediators of American Arbitration Association, with Construction Specialty
Designated as Mediator for Super Storm Sandy Mediations
Mediator, Mandatory Mediation Program: United States District Court, Northern District of New York
Neutral Evaluation Panel: New York State Supreme Court, Fifth Judicial District
Professional Organizations
American Bar Association

Litigation Section, Subcommittee on Green Building and Renewable Energy
Forum on the Construction Industry
Tort and Insurance Practice Section
Business Law Section
Environmental Section

New York State Bar Association
Onondaga County Bar Association
Litigation Counsel of America
Construction Lawyers Society of America, Charter Fellow
Community Organizations
U.S. Green Building Council Upstate New York Chapter
Greening USA
Construction Specifications Institute, Syracuse Chapter
Boys and Girls Club of Syracuse, former Director
Honors and Affiliations
Albert Nelson Marquis Lifetime Achievement Award
Fellow, Litigation Counsel of America
Biographee, Who's Who in America
Past judge, Yale Moot Court Competition
Distinguished Faculty, Lorman Education Services
American Arbitration Association
AV Preeminent Peer Rated for Ethical Standards and Legal Abilities, Martindale Hubbell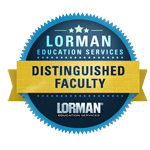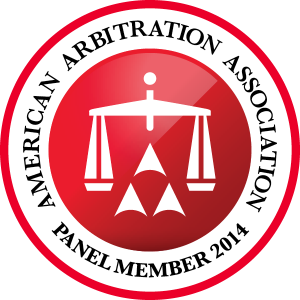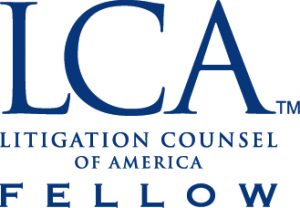 Seminars and Topics
Mr. Bradley has lectured to well over a thousand professionals including presenting at the American Conference Institute Program in Philadelphia and was an invited speaker to their Construction Claims and Litigation Conference in New York.


---

Approximately 50 seminars on all aspects of construction law including:

Construction Contracts
Claims Litigation
Change Orders
Design Defects
Construction Management
Building Codes
Architect and Engineer Law
Toxic Mold Claims
Financing of renewable energy projects and legal pitfalls of green building
How to Get Paid
Bid Protests
Liquidated Damages
Termination
Surety Bonds
No Damage for Delay Claims
Mechanics Liens
Trust Funds
Cardinal Changes
Notice Clauses
Owner Warranties
Mediation / Arbitration
Superior Knowledge
AIA Contracts
Articles and Manuscripts
Litigation Disputes over Failed Promise of Green Certification
Prior Employment
Confidential Law Assistant to Justice of Appellate Division
Special Assistant Attorney General, State of New York
PowerPoints (PDF)
Speaking Engagements
April 28, 2020   Webcast: Knowledge Group, LLC program : Resolving Construction Disputes Through Mediation

Topic: Dispute Resolution Clauses and Methodologies.

November 29, 2018    Harvard Club NYC

Topic: Construction Projects Environmental and Well being with Profits

November 30, 2017    Yale Club, NYC

Topic: Construction Litigation, Alternatives and Surprise
FIVESTAR REVIEWS & TESTIMONIALS
ROY SMITH

– Feb 17 2020Rodger helped us with a small case against a national retailer. Rodgers' professionalism and abilities at negotiation as well as his experience are what eventually secured us a settlement we were happy with. He kept in touch the whole case and oversaw the whole process. He was honest throughout even when he stood to gain nothing. From my experience he is outstanding at what he does. I would recommend him to anyone who needs a good, solid, honest attorney.

TIM A SEELER, P.E.

– Nov 06 2019Roger and I have worked together over more than 20 years assisting clients in resolving issues they face. Roger has provided advice and counsel to me on a number of occasions as well. He is a very skilled Attorney but brings common sense to problem resolution. He is dedicated to his clients and is incredibly responsive to their requests and needs.

MARK RANALLI

– May 23 2019For nearly 2 decades Mr. Bradley has provided legal counsel services for me personally, for family members, for friends, and for business associates. All those who I have recommended Mr. Bradley, and/or his firm, have been more than impressed – with not just his unmatched breadth and depth legal acumen, but as well his professional demeanor, interpersonal skills, his responsiveness, and his uncanny ability to "read" people. A friend of mine recommended Roger to me with the statement "the nicest lawyer in the world with shark teeth." I agree.

MICHAEL BAROODY

– May 07 2019I have known Roger Bradley for over 15 years. Roger has handled many legal matters for me and has always achieved the outcome I was looking for. Roger has always protected my interests in an ethical and professional manner while keeping me informed throughout every step. Roger is the very best and I am privileged to have him by my side.

RICK FEDRIZZI

– Jan 24 2019Roger Bradley is one of the most supportive innovative attorneys I have ever had the ability to work with. Roger spends a lot of time understanding the unique issues surrounding the legal work he engages in with his clients. For example he has taken the time to educate himself on the often complex areas of sustainability and human health and wellness related to the work that my organization is engaged in (real estate certification utilizing LEED and WELL certification rating tools) Roger's unique ability to collaborate with his clients is one of the things that make him special. It's never a one way top down driven legal discussion. Roger wants to share what he knows and bring forward all pertanient issues of what his client knows before offering his opinion and important direction. He is a terrific representative of the legal community.

BILL HUNTER

– Jan 21 2019Roger is an excellent attorney. He is careful in his deliberations, creative with his solutions and always looking to add value in unique ways. Roger has always gone above and beyond the call of duty in his engagements with us and is a well respected member of our business community.

TIM BAROODY

– Jan 21 2019Knowledgeable, professional and honorable. Fair all around, he shares knowledge selflessly. The most straight up professional I have met in all my years in business.

JOHN FALGE

– Jan 21 2019Roger always puts the interest of his clients first and he is understanding and thoughtful. Outstanding attorney.

SHANNON BERTRAND

– Jan 21 2019Roger has acted as a AAA arbitrator for me in a construction dispute and also as co-counsel in a construction matter. He is incredibly well prepared and hard working. I highly recommend him.

JOSEPH PANNA

– Jan 21 2019I have worked with Roger for many years. I find him to be a hard working dedicated attorney, highly specialized in construction law. Recently Roger worked on a large construction claim for our company. I found that he worked on most weekends and many weekdays until 9 or 10pm. He is always there for us when we need him. We are well pleased with the results Roger gets.

FREDERICK MICALE

– Jan 21 2019As a business law practitioner for over 45 years I have worked with Roger on several construction law matters in which I found Roger to be the most knowledgeable and experienced lawyer in this field with whom I have had the pleasure with working.

THOMAS PRONESTI

– Apr 19 2018Roger is a featured attorney on Mediation.com and we highly recommend his services.
GOOGLE REVIEWS & TESTIMONIALS
ROY SMITH

Feb 04 2020Attorney Rodger Bradley was excellent at negotiating a settlement for my case. It took several months and Rodger was always attentive and never brushed me aside even though my case was relatively small. His negotiating skills and insight reflect his years of practice. He was a great overseer through the process and I would recommend him to anybody.

TIM BAROODY

Jan 22 2019The most professional and honorable attorney in the business. His vast knowledge and cooperative spirit is remarkable. He is the best construction attorney in the business i have seen in my career over 35 years. Roger, you are honest and honorable. Thank you for all you have done for us.