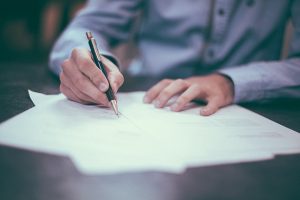 Do I need a Construction Law Attorney?
How do I prove I honored the contract?
How to write an effective contract?
Too often, contractors find themselves struggling to collect payment even after spending thousands of dollars to complete a project. The reason may be a dispute over the work, the timing of the work or payment or countless other excuses from the client. In almost every situation, a stronger contract would have protected the contractor and gotten them paid sooner.
Protecting Contract Rights
To write an effective contract and make sure it actually protects you, you need to keep five issues in mind.
The contract should provide clear answers to the key questions surrounding how the work will be performed and how you'll be paid.
Make sure the legal language of the contract matches your understanding of the key questions. Don't add in or accept contract clauses you don't fully understand just because they were in another contract or sound like something a contract should have.
You must follow the contract to the letter. Failing to do so could undermine your rights.
Have a flowchart identifying the parties and who each has contracted with. This will help avoid misunderstandings and avoid disputes between contractors and subcontractors.
Know how to enforce your contract. It should define remedies for potential breaches, and you should also understand your rights under the law.
Key Questions to Ask
The key questions to ask go beyond the basic job description. To get paid for a job, you need to understand the following.
What is the reputation of the parties involved and of the job itself? Do they have strong finances and a reputation for honoring their contracts?
What are your duties and rights under the contract? For example, what steps do you need to take to preserve your right to file a lien or assert a payment bond claim?
Are you able to follow through immediately — both on your end of the deal and asserting your rights if another party doesn't hold up their end of the bargain?
What documents do you need to prove you honored the contract? These can include photos, diaries, and your written communications.
What remedies do you have to protect your rights?
Remedies to Ensure Payment
Your contract should also define remedies to ensure performance. These can include the following.
Contract terms, such as interest added on late payments.
Mechanic's lien rights given to contractors and subcontractors.
Payment bonds or trust funds ensuring that funds are available for payment even if the project goes under.
Other legal remedies, such as repossession.
If you take these steps, it should help to avoid disputes, but if you need help from a construction law attorney and enforcing or drafting a contract, contact Roger W. Bradley, Esq. today.