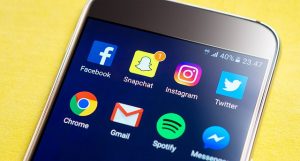 With smartphones and social media being so prevalent in society today the temptation to post sexy pics or type inappropriate comments is always looming. Particularly, if you're considering divorce proceedings or custody action or are in the midst of it. It's extremely important to think before you post on social media, tweet, text, leave a voicemail or send an email. You might be angry at your ex or want to make them jealous and anger and jealousy are known to get the best of people. Fight those feelings and refrain from typing, sending, or posting anything inappropriate.
Ask yourself, if what I'm about to post or send ended up on a courtroom TV monitor how would I come across to the judge? Does it make me appear volatile or unfit as a parent? Anything in writing or recorded audio can be used against you during divorce or custody proceedings. In the event that you've already crossed that line on social media or in an exchange with your ex, you must make your lawyer aware of it immediately. Never allow the opposition to surprise your lawyer with a picture or text message inside the courtroom.
How to Communicate with Your Lawyer
Throughout proceedings it's important for you to know what to expect from your lawyer and how to communicate effectively. The New York State Rules of Professional Conduct protect and explain your rights as a client and your lawyer's obligations to you. They are required to review a Statement of Client Rights and Responsibilities and a Retainer Agreement with you. For example, as a client you have the right to:
Be reasonably informed about the status of your matter, including decisions or circumstances that require your informed consent, as well as material developments in your matter including settlement or plea offers
Request information from your lawyer
Receive enough information from your lawyer so that you can make informed decisions regarding your representation
Client vs. Lawyer Decision Making
You will be facing multiple decisions during divorce or custody proceedings so it is important to know how to go about the decision-making process. Your lawyer must:
Abide by your wishes concerning the goals of the representation and always consult with you on how to move forward.
Abide by your decision whether to settle a matter
Act with reasonable deliverance and promptness
However, your lawyer may:
Exercise professional judgment to waive or fail to assert your right or position, or agree to reasonable requests of opposing counsel, when doing so does not prejudice your rights
Refuse to aid or participate in any conduct they believe to be unlawful, even if one could argue the conduct is legal
At Melvin and Melvin, we are experienced with every type of divorce, ranging from high conflict to financially complex divorces to all aspects of family practice. We maintain the level of respect and professionalism you would expect from your divorce attorney. At the most difficult time in your life, you need a legal team you can rely on to solve your legal problems. To schedule a consultation, call Melvin and Melvin at (315) 422-1311 or to contact us via email click here.
Check out some information on our Collaborative Family Law.
Photo Credit: TeroVesalainen Via Pixabay
Source:
http://www.nycourts.gov/rules/jointappellate/NY-Rules-Prof-Conduct-1200.pdf