The Federal Disaster Management Agency (FEMA) has announced that it will provide up to $7,000 in funeral assistance for those whose loved ones have died due to COVID.  Currently, this program is available for those who died from COVID if their funerals took place between January 20, 2020 and December 31, 2020.  It is anticipated that this program will eventually be expanded to include 2021.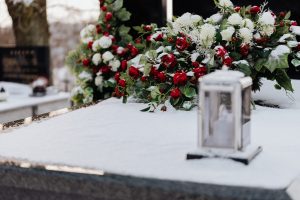 Eligible expenses are any uninsured expenses related to:
Cost of a casket
Mortuary services
Transportation of the deceased and/or up to two family members into the area to identity the decedent (if required by state/local authorities)
Two Death Certificates
Burial plot
Interment or cremation
While the exact procedure for submitting claims has not yet been announced, FEMA typically reviews claims through its Joint Field Offices, and payments are approved by the Federal Coordinating Officers or his designee and State counterpart.  The procedure will be similar to that used by FEMA in natural disasters.
To obtain reimbursement, the following documentation must be submitted:
A Death Certificate for the decedent
Documentation from a designated authoritative state or local entity (i.e., attending physician, Medical Examiner's Office, Coroners Office, as appropriate) that attributes the death to COVID
Proof that the application is the official "next of kin" as defined by the appropriate state or local authority
Confirmation that funeral expenses have not been paid for by other resources (e.g., Social Security and Veterans Affairs benefits would be duplicate federal expenses, and subtracted from a FEMA award)
Evidence of an unmet funeral expense (a receipt from a service provider)
FEMA will not provide any assistance if the death was not attributable to COVID, the funeral expenses are fully covered by another source of assistance, or it receives insufficient or incomplete documentation.
It is not clear when FEMA will begin accepting applications for reimbursement, as the details of the program are still being worked out. In the meantime, those who may be eligible should gather the required information in order to avoid any delays or rejected applications.