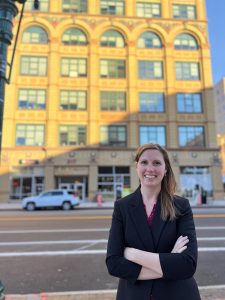 Melvin & Melvin, PLLC is celebrating its 100-year anniversary! In celebration, we want to share the talented and hardworking individuals that make Melvin & Melvin one of Syracuse's most trusted law firms.
Erin M. Tyreman is one of Melvin's civil litigation associates specializing in employment/labor law and real property disputes. Erin says that the most challenging part of her job, but also the most exciting, is that the law and legal practice are continually evolving and changing. To be a competent and successful attorney, it is critical to keep up with and stay ahead of changes, particularly in a practice so significantly affected by the ongoing pandemic.
Where did you go to law school?
University of D.C., David A. Clarke School of Law, Class of 2011
How long have you been practicing law?
I will have been barred for 10 years in January 2022!
What do you like about practicing law/your area of practice?
I specialize in employment law and real property disputes which on the surface appear to be vastly different areas of practice—but the one thing they hold in common and what makes them so interesting to me is that they involve very personal disputes. I believe firmly that everyone is entitled to a safe and appropriate working environment. Ownership of real property is deeply personal and people are very protective over what they have worked hard to acquire, and rightly so. Having worked in a variety of different workplaces throughout my life and being a landowner myself, I can connect and relate on a realistic level with my clients that does not necessarily exist in other areas of practice.
What do you like about practicing at M&M?
I really enjoy the experience of collaborating with all of my colleagues at Melvin. Our partners have so much experience and have been wonderful mentors to me. It is also a dynamic experience working a case with my colleagues because each attorney has their own style of practice and you can get a variety of creative ideas and approaches to solving a problem or issue.
Why should someone come to Melvin & Melvin?
The experience and dedication of the attorneys at Melvin & Melvin is unmatched in the Syracuse area. At M&M, our clients are not just a manila file sitting in a file cabinet, they are real people with real problems that need real help. When you retain Melvin & Melvin, you can trust that your attorney will provide legal expertise necessary to handle complex legal issues while maintaining a personal relationship with the client, much of which is lost at the larger firms in Syracuse.
What are your hobbies?
I have several which primarily include spending time with my husband, Ty, and my dog, Elsa. I also spend a great deal of time with my mom, my siblings and their beautiful children. I have two nieces and seven nephews that I love to spoil rotten. I also really love reading, writing, photography and crafting. I also enjoy singing and I am a member of the Syracuse Pops Choir!
How long have you lived in Syracuse?
I moved to Syracuse ten years ago when I began my very first job as an attorney with the Hiscock Legal Aid Society. I wasn't sure at the time that I would stick around, but since then I have really come to love the Syracuse Community and I am so happy to have been a part of legal community here for the past ten years.
Favorite place to eat in Syracuse?
My husband and I love to eat at Avicolli's in Liverpool. We ate dinner here the night we got engaged so it holds a special place in our hearts. We also greatly enjoy the CopperTop Tavern!
Favorite thing to do/place to go?
My husband and I love to support all of the local sports teams including the Syracuse Mets, Syracuse Crunch, and all of the various SU athletics including football, basketball and my favorite, field hockey!
See Erin's attorney page to contact her with any legal issues, or call the office at 315-422-1311