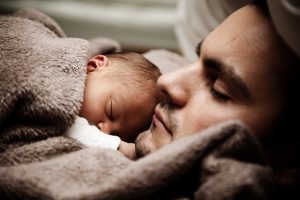 When you have a kid, everything else usually takes a back seat. But what would happen to your child if you and your spouse suddenly died or became incapacitated? Who will take care of your child's medical needs and daily care? Who will manage your assets until your child reaches adulthood?
A well-crafted estate plan can address these issues and more and ensure that your kids are taken care of after you are gone. While previous parts of this series have discussed the importance of having an estate plan, having children makes having an estate plan even more important.
There are generally two sides of estate planning: What happens to your STUFF when you die and who takes care of your SELF when you become incapacitated. But when kids enter the equation, you need to consider a third perspective: Who takes care of your children when you can no longer do so.
Contemplating your death can be a very sobering thought to have, especially once a child has come into your life. However, you need to consider what happens after your death in order to ensure your children are provided for.
So what would happen to your children if you died tomorrow? Say you have a parent or other relative who you want to take care of your kids. That relative would need to obtain guardianship over — or adopt — your child(ren) through a court proceeding before they would have legal authority to manage their care and provide for their well-being.
What about your assets, your STUFF? Your property would need to be distributed through a properly funded trust, probate, or other probate-avoidance devices. Whatever the case, if your children are minors, they will not be able to access those assets until they reach age 18. In the meantime, a guardian, conservator, or trustee would manage that property for your children.
Taking care of your children and taking care of your stuff all requires time, money, and court proceedings. There are also many ways things could go wrong.
Are there any relatives you do NOT want to take care of your kids? Is there anyone you do NOT want to oversee your assets? Do you want to leave certain funds for your child's education? Do you want to ensure your child is able to stay in the same city or school district after your death? Are there any other special instructions you want to leave behind?
Without an estate plan, all these issues are left up to chance.
PROVIDING FOR YOUR KIDS
Providing for your children is one of the most important aspects of estate planning. So how can you use your estate plan to provide for your children's care? How can you ensure that your estate will be distributed responsibly and for your children's benefit?
When it comes to your children's care, the options are straightforward. Although you cannot avoid the need for a guardianship or adoption in the event of your death or incapacity, you can nominate a trusted relative or friend to serve as guardian if it ever becomes necessary.
This nomination can be included in your Last Will and Testament, in a Living Trust, or as a separate document. If the guardian is otherwise qualified to serve, this nomination will help ensure the court appoints the right person to take care of your kids.
Along with a Nomination of Guardian, you may also wish to leave instructions for the eventual guardian. What values do you want them to instill in your children? What concerns do you have about their care? What information or records does the guardian need to know or have in order to properly care for your kids?
Choosing a guardian is an incredibly important decision. So take the time not only to consider who you want to take care of your kids but also what they will need to know.
Just because you nominate a guardian to manage your child's care does not mean that you have provided for the care of your property. When it comes to assets, you will also need to appoint a Trustee who will handle the financial assets you leave behind for your children.
A trustee has the discretion to distribute funds to your child in a way that best provides for their care. Would you want your child getting $100,000 right when they turn 18? Or would you want to spread out the distributions to give them time to appreciate that wealth and to make more responsible decisions?
You can also specify certain events (e.g., going to college, getting married, buying a house) at which you want the trustee to distribute funds to your child. Our clients often provide that their children are entitled to one-third of their inheritance at 25, one-third at 30, and the remainder at 35.
A trustee can be created in either your Will or if you create a Living Trust, depending on your objectives and wishes.
OTHER CONSIDERATIONS
Aside from a Living Trust, Last Will and Testament, Durable Power of Attorney, and Advance Directive for Health Care, we recommend leaving a "letter of instruction" to tell your representatives everything they need to know to manage your estate.
Consider writing different letters for your trustee or personal representative and your designated guardian or conservator for your children, since different information may be relevant to different individuals.
Lastly — and this is especially important for Millennials — we highly recommend you create a digital estate plan detailing how you want your online assets disposed of and the information your representatives will need to access those accounts. Depending on the laws in your state, you may need to appoint a separate "digital executor" in your estate plan for this purpose.
You do everything you can to protect your children. But failing to have an estate plan can leave your children vulnerable and cause a number of other problems for your family and your estate. Contact the experienced attorneys at Melvin & Melvin, PLLC via email or 315-422-1311 to help determine what estate plan best fits your goals and family circumstances.
Read the next section Growing Up Smart: Estate Planning for Millennials Part Four: Tips for Unmarried Couples