The COVID-19 pandemic has left many of us to question, how and when do we get back to normal? The answer in many situations is not when we get back to normal but rather how to create a new normal using virtual legal services.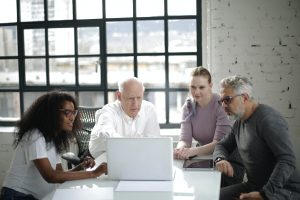 The legal community has had to close down its physical operations at offices in light of the Governor's executive orders, but the attorneys of Melvin & Melvin, PLLC are working hard each day to provide the highest level of legal services.
The attorneys of Melvin & Melvin, PLLC are accessible via the typical lines of communication including telephone and email and are also available via the Zoom video platform.
According to their website, "Zoom is the leader in modern enterprise video communications, with an easy, reliable cloud platform for video and audio conferencing, collaboration, chat and webinars across mobile devices, desktops, telephones and room systems."
Zoom can be used on iOS, Android, Windows, and macOS platforms. You can request a Zoom meeting with your attorney and a private email with an invitation to a Zoom meeting will be sent to you. You can access the invitation on your cell phone, laptop, or desktop, or you can simply dial in using the number for audio link only.
Zoom provides a video-conferencing platform which is safe, secure and confidential. In fact, many Courts across the nation are turning to Zoom to conduct Court proceedings while courthouse doors remain closed.
Other convenient features of Zoom include file transfers and screen sharing. If there is a document you need to review with your attorney, it can be shared between your screens in the video-conference. Recently, Governor Cuomo issued an executive order allowing for most documents to be notarized via video platforms. Also, most documents may legally be signed electronically in accordance with the Electronic Signatures and Records Act.*
With Zoom at the ready, there is no need to delay in seeking legal counsel to get the answers you need to protect yourself and your family in this time of crisis. Contact Melvin & Melvin, PLLC today. We look forward to providing you with our legal expertise in a safe, easy and convenient environment, from the comfort of your own home.
*Unfortunately, we are not able to offer all legal services via video platform since there are some legal documents that still require "wet" signatures including documents which transfer title or otherwise affect real property, as well as trusts and estate documents.